mare Whisper might be the sweetest horse Lauren Towers ever met. The grey mare, Lauren's present for being accepted to Canterwood, is a horse who is dedicated to her rider. Together, Lauren and Whisper are negotiating Canterwood.
Whisper is a very very light grey Hanoverian Thoroughbred mix with a snip. She is five years old.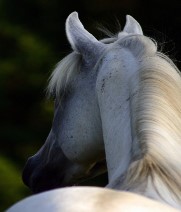 -
-
-
-
-
More info: In Chosen, she was a Dutch Warmblood Thoroughbred mix and was 6 years old. However, throughout the rest of Lauren's part of the series, she is a Hanoverian Thoroughbred Mix and is 5 years old.