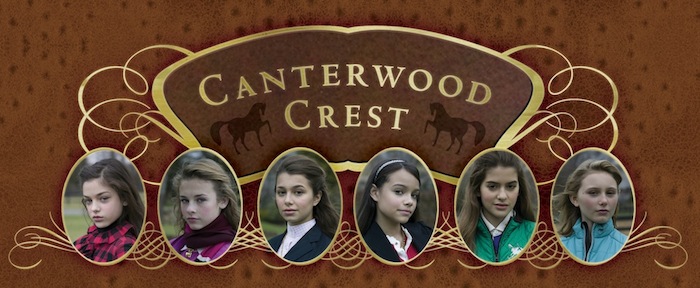 Welcome to
CANTERWOOD CREST WIKI
5 girls. One academy. And some serious attitude.
RIDER'S PORTAL
ABOUT CANTERWOOD CREST
WHAT'S NEW
May 7, 2011- We've been featured on the Canterwood Offical Site!!! Please check it out! Thanks Jess!
May 3, 2011- Chosen has been released! If you read it, please take a look at the format of Little White Lies and fill in Chosen's information. Make sure to use proper grammar and as a third point of view.
April 2, 2011- Canterwood Crest Wiki gets a new main page!
February 23, 2011- The wiki is created!
HELPING OUT

To write a new article, just enter the title in the box below. Make sure it's not fanfiction and hasn't been created yet.
Not sure where to start?
Adding content
Don't Forget...
Featured Rider
Sasha Silver is the main character of the Canterwood Crest series. She loves lip gloss and sparkly pink things. She's a talented rider on the YENT team, and her horse is Charm. Sasha's been through serious boy problems, but now she has the best BF ever: Jacob Schwartz. Sasha is brave and determined, and willing to ruin her relationships for the happiness of one person. She is also friends with Heather Fox and the Trio. Check out her full article to see more!
Featured Media
Canterwood Poll
Do you like Rival Revenge?
Canterwood Crest Websites
Canterwood Blogs
Create blog post
Hi everyone I am hoping to adopt this wiki and make changes to all the pages. I'm a huge canterwood crest fan and I can tell that a lot of people would use this wiki if it's more organized. feel free…

Read more >

So I arrived at Canterwood and I was like woah!!!! Busy much and then I settled in and apart from missing my parents life is great (but busy!!!!) speaking of busy I've got to do homework now!!!!!! TT…

Read more >

I might write a fanfic about Canterwood Crest someday. Who thinks I should do it?

Read more >
See more >