Aristocrat
is Heather Fox's dark thoroughbred chestnut gelding at Canterwood Crest Academy. He is the arch-nemesis of Charm, Sasha Silver's lighter thoroughbred chestnut gelding. This is most likely due to the rivalry between Sasha and Heather, although as the rivalry improves and Sasha and Heather become friends throughout the series, Aristocrat and Charm's attitude towards each other improves. Aristocrat is described as very catty and snobby like his rider, and takes any chance he can get to shoot other horses dirty or cocky looks. Aristocrat is extremely seasoned, and excels in cross country, while also being extravagant in show jumping and dressage. He is a purebred Thoroughbred gelding and is extremely skilled in all prospects of eventing. Aristocrat is on the YENT (Youth Equestrian National Team) along side Heather.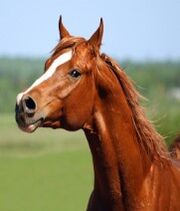 Community content is available under
CC-BY-SA
unless otherwise noted.